With your support, Brooke is learning how to cope with grief and trauma
When you meet Brooke Moore, it's easy to forget that she hasn't always been free to be a kid.
Her dark brown eyes glint as she announces that she's a hugger and throws an arm around your neck. She pulls a smartphone from her backpack and asks if you want to see pictures of the tie-dyed socks she made. She is pleased to tell you that she sings in her school choir.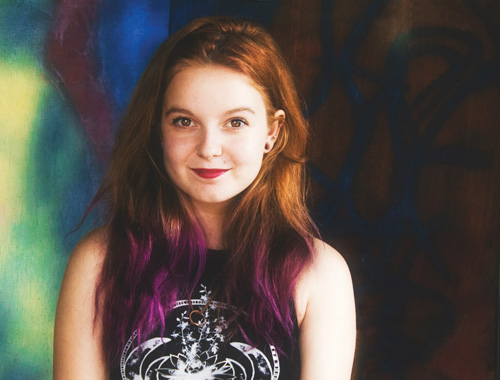 Brooke, 17, charms you with her energy, and during a pause in your conversation, you're struck by how far she's come. Paralyzed by grief and forced to be an adult long before she was ready,
Brooke hasn't always been this happy.
Bereaved teens often feel like their grief is invisible. They feel isolated from their peers and pressured to move on. Without your support, many of these teens would be at risk for social, behavioral and physical problems that threaten their wellbeing. Such was the case with Brooke.
This is her story, and you play a critical role. As a Big Bend Hospice donor, you were part of giving this young woman, full of creativity and potential, a better future.
'I always felt alone'
Brooke had always had a difficult childhood.
She had been in and out of foster care since age four, evicted from apartment after apartment with her mother and siblings. Her parents drank, didn't hold steady jobs and didn't set boundaries for her.
As the oldest child, Brooke was often left in charge of her siblings.
"I always felt like I was alone," she says.
Things got worse in 2013 when Brooke lost two of the most important people in her life.
Her Aunt Tammy – who was like a mother to Brooke – died from the effects of alcoholism. Days later, Brooke's cousin, Jordan, died unexpectedly during a medical procedure. The two young girls, born just days apart, had been inseparable their entire lives.
Brooke shut down. Like a horse wearing blinders, she raced away from the pain and engaged in a variety of harmful behaviors as she struggled to cope.
Smoking was normal in Brooke's family, and by age 13, she was chain smoking. Then she started "sleeping around," smoking marijuana and taking acid to feel something, anything.
"I was just in survival mode," she says. "I could only focus on what I had to do at that minute so I could get to the next minute, and I did that until I was almost 16."
'Screw the system'
Things began to improve for Brooke when she found a loving foster home with Lex and Debbie Collins. They gave her rules to follow – no smoking, no drugs, no boys –, which is what Brooke deep down desperately wanted.
"I don't do any of those things anymore," she says.
A friend told Brooke about Big Bend Hospice's Grief Group at Leon High. The sessions helped her cope with the loss of her aunt and cousin and with the trauma of her childhood.
"I was all, 'Screw the system!' when I first got into foster care," she says. "Grief Group helped me realize that I was acting out because I missed my parents."
Without the support you provided, Brooke says, "I'd probably not be living with my foster parents because I would have broken every one of their rules. I'd be in a bad place mentally."
But Brooke is in a good place. She's thinking about college and dreams of a career as an attorney ad litem representing foster children or as a special education teacher. She still feels lonely from time to time, but she draws strength from an exercise she learned at Teen Woe-Be-Gone.
"You picture yourself as a tree," she says, "and you feel your roots going into the earth, straight to the core, and you empty out all of your feelings. That one really helps me."