By: Guest Post
I wish you could have known my brave boy Marshal.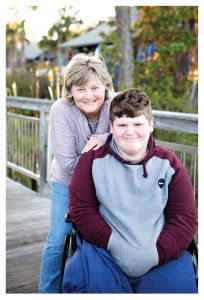 Like most teenage boys, he could be unpredictable. He didn't have a filter and would say things like, "Whoa, what did you do to your hair?" But Marshal was tenderhearted. One of his final acts was to make sure I received flowers on Mother's Day. He wanted to take care of me because we were family.
You see, for most of Marshal's life, he didn't have a family. That changed when I adopted him. I couldn't have known then that our time together would be so short or that our family of two would grow to include an entire community of people like you who rallied around us.
Marshal passed away in May at Big Bend Hospice's Margaret Z. Dozier Hospice House after a long fight with cancer. The doctors, nurses, therapists, social workers, aides, and volunteers who took care of him became our extended family.
Even though Marshal has passed on, Big Bend Hospice is still with me. I see a counselor there once a week, and our social worker calls to check on me. Marshal would be pleased to know that they're taking care of me!
When Hospice says, "Count on us to be there for you," they mean it. Big Bend Hospice was there for my family, and they'll be there for yours, too. But right now, Hospice needs us.
Will you join me in supporting them with a tax-deductible gift before the year's end?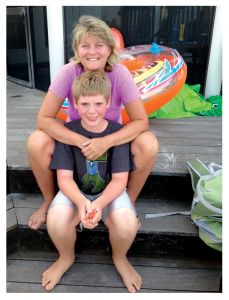 I am dedicated to sharing Marshal's story so that other children and families get the support they need. But first, I want to tell you about Marshal and how we found one another. He was my buddy, and we were a magical team.
I first saw Marshal in a photo gallery of children who were available for adoption. There was something about him that I couldn't forget. That blondish red hair. The mischievous look in his eyes. I kept returning to his photo, just to make sure he was still there. Finally, I thought, "Go meet him."
I've always loved kids. I taught at Leon High School for more than 25 years and often thought about having my own family. I decided to adopt an older child after realizing how many teenagers needed a forever home.
Marshal had been in and out of state custody since he was three years old. He survived years of abandonment and neglect and then bounced between foster care and group homes ten times before we found one another.
We started out slowly. I mentored Marshal once a week and taught him how to play guitar. We were on our way to becoming a family, but it was hard. He had behavioral challenges and post-traumatic stress disorder.
Marshal would test me and say … "I know you're going to leave me like everybody else has." But I never wanted to leave. We became the Fisher family on Adoption Day, Sept. 17, 2013. Marshal was 13 years old. For the rest of our time together, he would say,
"Tell me that story, the one of how you picked me out," but I always felt like Marshal picked me.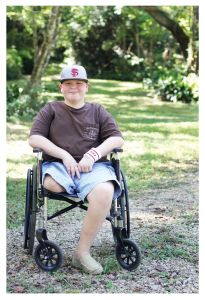 Our bond, so newly formed, would sustain us in ways I never could have imagined. We hadn't been a family for even a year when Marshal was diagnosed with bone cancer. We were devastated, but we prayed, and we had faith. We were a "tough-as-nails, we-can-do-this-together" family. And Big Bend Hospice had our backs.
We chose Big Bend Hospice because they had more programs and services for Marshal — and for me. Services that are only possible with generous community support. That's why I'm writing you this letter. Will you help?
During his four-year fight with cancer, Marshal benefited from every service Big Bend Hospice provides including:
Excellent medical care
Support from our dedicated social worker
Music therapy
Pet therapy
Art therapy
Trained volunteers
Art therapy was Marshal's favorite. He believed that you are never too old to create and play. Art allowed him to forget about cancer. It also helped him process the trauma of his illness, including the amputation of his right leg. He couldn't talk about a lot of things, but he could draw what he was feeling.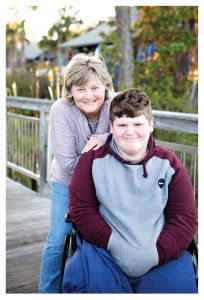 The Big Bend Hospice team members were so good with Marshal. He never thought of them as Hospice staff. They were his friends, and when they were with Marshal, I could relax. Big Bend Hospice sent volunteers to stay with Marshal, which gave me a chance to take a break. Even if I only went into the next room to lie down, the respite helped tremendously.
And I have to tell you … about those flowers on Mother's Day. They meant so much to Marshal, and Big Bend Hospice made them possible.
In Marshal's final weeks, he started to tell people that he wanted them to take care of me. The cancer had metastasized to his lungs, and he knew that he didn't have much longer.
Big Bend Hospice social worker Melissa Roy helped Marshal order and purchase the flowers with funding from the Special Patient Needs Fund. This fund, supported by community donations, allows Big Bend Hospice to meet patients' wishes at the end of life.
Marshal's last wish was to do something nice for his mom. The flowers were a beautiful spring arrangement of every color. The day they arrived Marshal didn't feel well. He lay on the couch most of that day. I kept saying, "My flowers are so beautiful." He just smiled.
The next day, we moved Marshal to Hospice House, where the doctors and nurses could keep him comfortable. He wanted to be at home, but I reminded him that home was wherever we were together.
In his final hours, true to form, Marshal was most concerned about me. "Go lie down," he said. "Go rest." But I didn't rest. I held his hand as his heart beat its final rhythms. Marshal Robert Fisher, my buddy, my friend, my son, died on May 14, 2018, the day after Mother's Day. He was 17 years old.
Now, I will rest. I will let people take care of me because that's what Marshal wanted. As my first holiday season without him approaches, I know I can call on Big Bend Hospice. They got to know and love Marshal, too, and that's a bond we'll always share.
Big Bend Hospice is a part of our family … and if you're reading this letter … you're part of our family, too. You make the programs and services that Marshal and I relied on possible. Despite the hole in my heart, I am overcome with gratitude for your outpouring of love, compassion, and support.
Please join me in making a gift to Big Bend Hospice to keep these programs going. As Marshal's mom, I still have work to do. I am speaking for him and for other families who experience serious illness and grief. They need our support.
Will you help?
Sincerely,
Betsy Fisher
Marshal's mom