Franklin County Open House
September 7 @ 11:00 am

-

1:00 pm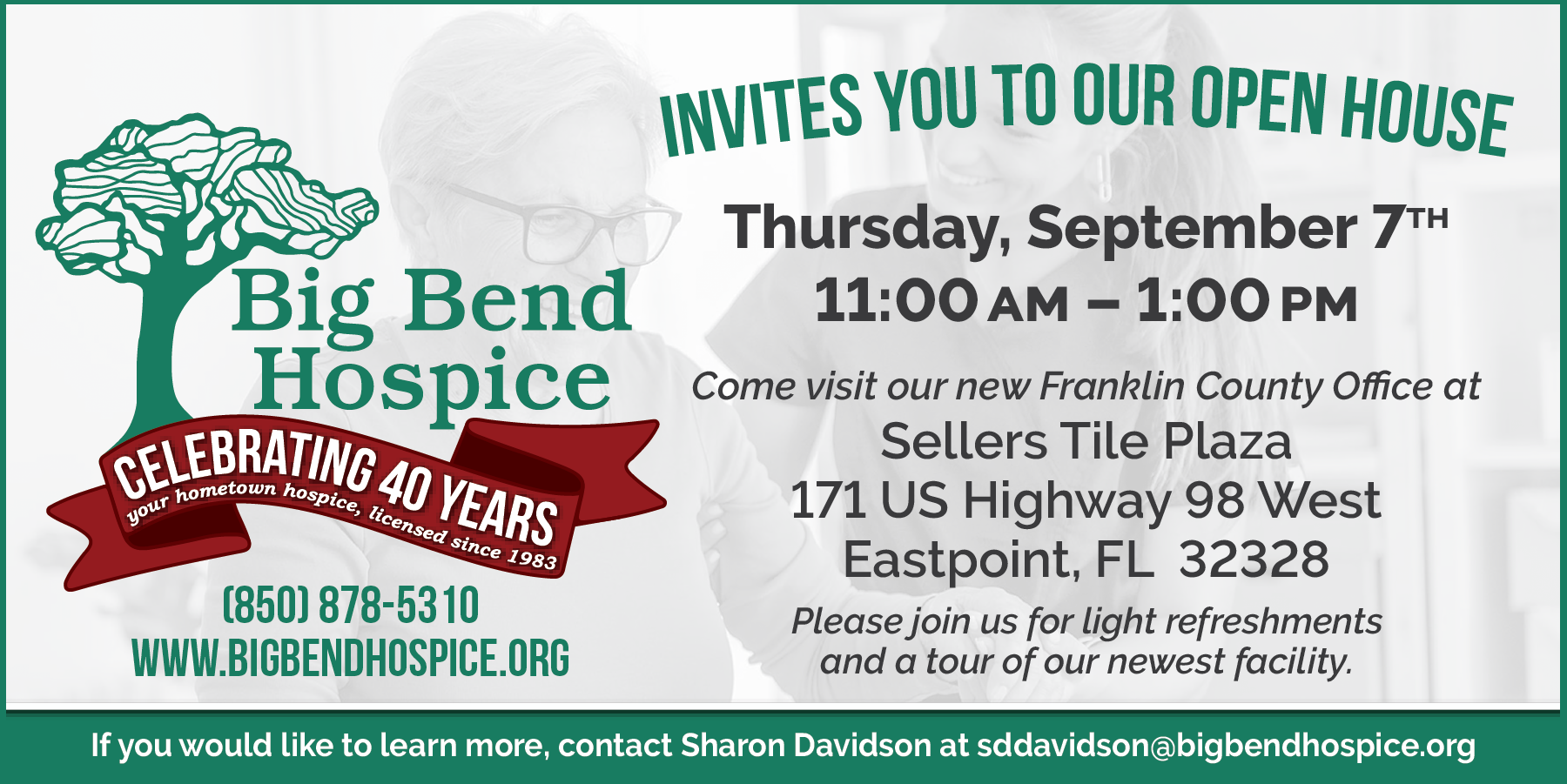 Big Bend Hospice will host an open house at our new 𝐅𝐫𝐚𝐧𝐤𝐥𝐢𝐧 𝐂𝐨𝐮𝐧𝐭𝐲 𝐁𝐫𝐚𝐧𝐜𝐡!
Join us 𝐓𝐡𝐮𝐫𝐬𝐝𝐚𝐲, 𝐒𝐞𝐩𝐭𝐞𝐦𝐛𝐞𝐫 𝟕, from 𝟏𝟏:𝟎𝟎 𝐚𝐦 to 𝟏:𝟎𝟎 𝐩𝐦 𝐚𝐭 𝐒𝐞𝐥𝐥𝐞𝐫𝐬 𝐓𝐢𝐥𝐞 𝐏𝐥𝐚𝐳𝐚, 𝟏𝟕𝟏 𝐔𝐒 𝐇𝐢𝐠𝐡𝐰𝐚𝐲 𝟗𝟖 𝐖𝐞𝐬𝐭, 𝐄𝐚𝐬𝐭𝐩𝐨𝐢𝐧𝐭, 𝐅𝐋 for light refreshments and a tour of our newest facility.
Learn about Complementary Therapies, Employment and Volunteer Opportunities, Palliative Care, Grief Support Services, Veterans Services, and more!
𝐈𝐟 𝐲𝐨𝐮 𝐰𝐨𝐮𝐥𝐝 𝐥𝐢𝐤𝐞 𝐭𝐨 𝐥𝐞𝐚𝐫𝐧 𝐦𝐨𝐫𝐞, contact Sharon Davidson at sddavidson@bigbendhospice.org