Veteran's Services
Big Bend Hospice has been a proud partner in We Honor Veterans, a program of the National Hospice and Palliative Care Organization and the Department of Veterans Affairs, since 2013. We attained Partner Level 5 in 2020 through our commitment to Veteran-centric end-of-life care.
This Emergency Preparedness Guide for Military Caregivers was created by the Rosalynn Carter Institute for Caregivers in partnership with the Department of Veterans Affairs. This guide is made specifically for Veterans and their Caregivers in response to the unique challenges they may face in times of disaster.
Emergency Preparedness for Military Caregivers Guide – Rosalynn Carter Institute
Valor Ceremonies are offered to those patients and clients who have served in the Armed Forces. In order to receive a Valor Ceremony, the Veteran's character of discharge or service must be honorable, under honorable conditions, or general.
The patient/client/caregiver can make a request for a ceremony through any Hospice team member, Transitions staff member, or Volunteer. The Veteran Liaison will be notified and will work directly with the patient/client/caregiver to arrange an appropriate date and time for the ceremony. Ceremonies are conducted wherever the patient calls home, including assisted-living facilities, nursing homes, and at the Margaret Z. Dozier Hospice House.
These ceremonies are filled with honor and tradition, and can be an opportunity to bring friends and family members together to thank the Veteran and preserve his or her legacy.
Trained Valor Volunteers (Veterans and non-Veterans) conduct each ceremony, which includes:
The Pledge of Allegiance
Display and gift of a table-top American flag
Patriotic music
A certificate of appreciation
Letter of gratitude
Red/white/blue afghan or blanket (through community donations)
Reading of a legacy document (when available)
Presentation of a Hospice-Veteran lapel pin
The ceremony concludes with the greatest show of respect one Veteran can give another – a salute.
If you'd like to learn more about how to become a Valor Volunteer, please contact Derrick Sykes at (850) 878-5310 or email dosykes@bigbendhospice.org.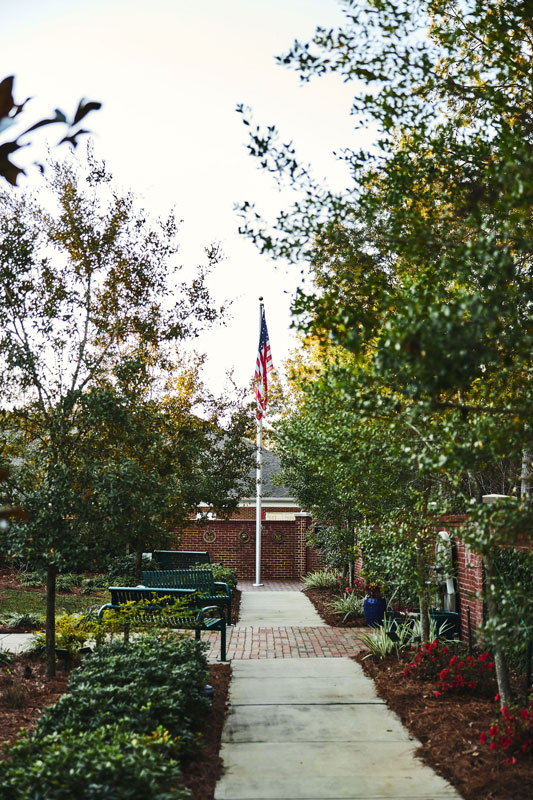 Often a Veteran can only open up to a fellow serviceman or woman. Volunteers, who are also Veterans, provide a comforting presence and camaraderie to those in need. This special program provides social interaction and companionship to create an environment where veterans feel safe and supported.
If you're a veteran and would like to help your fellow servicemen and women, click here to visit our volunteer page to learn more.
Veteran's Memorial Garden
Designed and created by Veterans, this memorial garden at our Jean McCully Family House pays tribute to all U.S. military Veterans and to show that regardless of rank or branch of service, "We are all the same."
Throughout this garden, you'll find:
A large American flag prominently lit and flown in accordance to Presidential proclamations
Custom designed emblems representing each branch of service and prisoners of war
A sound system that plays "Taps" daily at noon and for special occasions
A walkway lined with Veteran Memorial Pavers
Services held to dedicate the memorial pavers purchased in honor of our Veterans and an annual Veteran's Day service in the garden.
To learn more about the Veteran's Day service, visit our Foundation events page.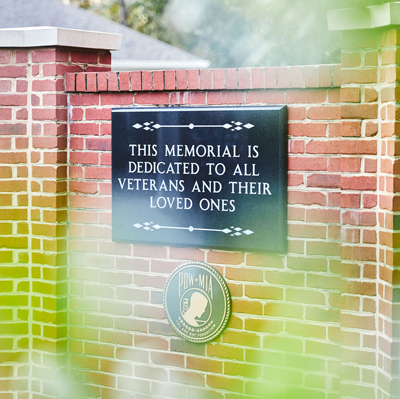 Thanks to a generous donor, we offer complimentary dog tags for every Veteran in our care. One tag is permanently placed on the Tree of Life at the Jean McCully Family House in the Veteran's honor and one is given to their family as a keepsake.
In 2018, we created a Veteran Liaison position to provide dedicated assistance to Veterans at the end of life. Our Veteran Liaison is responsible for:
Coordinating Valor Ceremonies and Vet-to-Vet visits to Hospice patients and Transitions clients
Creating and strengthening partnerships with Veteran-centric groups in all eight counties of our service area
Connecting Veterans and their families to resources
Recruiting volunteers for the Valor program
If you'd like to learn more, please reach out to Derrick Sykes at (850) 878-5310 or email dosykes@bigbendhospice.org.