Healthcare Provider Resources
Quick Links for Referring Physicians
---
Quick Reference Guide for Physicians
Download our helpful reference guide to help clinicians determine how hospice
is appropriate for each disease. We have included the diagnoses we see most
commonly as well as co-morbidities to consider showing increased decline.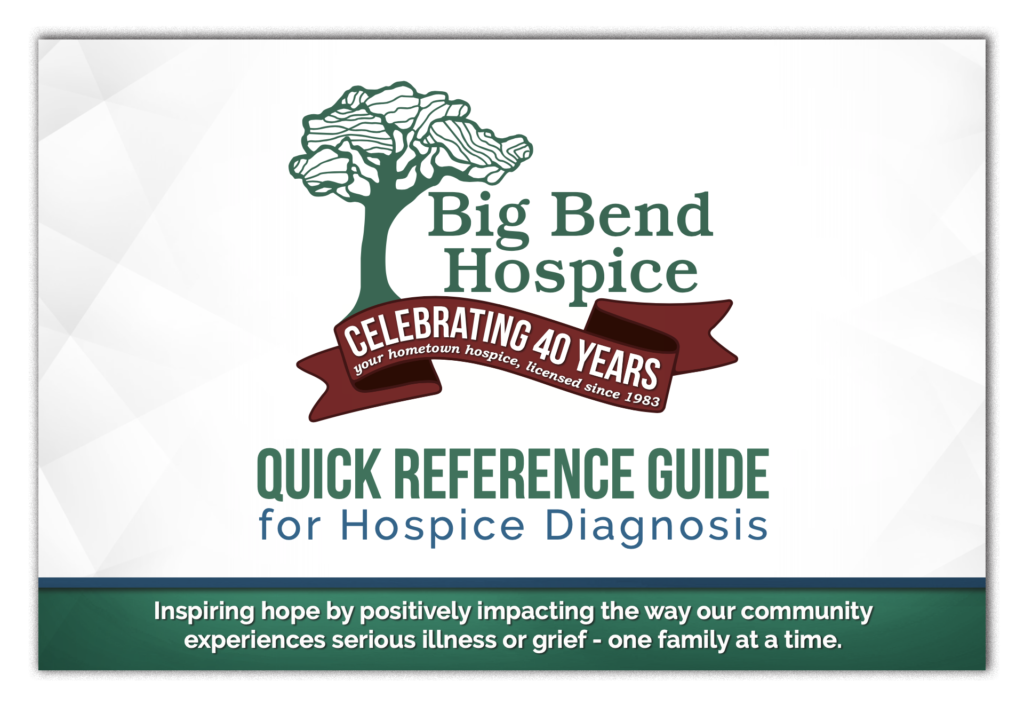 ---
Please remember to dial the area code even when calling local.
---
How can Hospice assist you in caring for your patients?
Assist Physician in having difficult conversations with patients and families regarding transitioning from curative care to palliative care.

Big Bend Hospice Physicians are available for Medical Team consults.

Hospice pays for medications related to hospice diagnosis and comfort care, easing the financial burden to patients and families.

Decrease hospital admissions, length of stay in hospitals, and 30-day readmissions.

Assist with discharge planning from hospital to home/facility.

Reduce the number of physician phone calls by providing a 24-hour phone number for patient and family support.

Provide DME including/but not limited to O2, hospital bed, wheelchair, walker, at NO cost to patient or family.

Provide medication management, including narcotics, to patients for symptom management.

Improve caregiver outcomes and patient/family satisfaction.

Prevent unnecessary and expensive treatment of a patient at end of life.