Hospice
Care Wherever the Patient Calls Home
The beauty of hospice services is they are designed to meet you where you are. Whether you live in your own home or apartment, the home of a family member or friend, or find home in an assisted-living or nursing home facility, hospice services are accessible to all eligible patients. Our services are even available in hospital settings.
If you would like to learn more about our care, please call us at 850-878-5310 or 24/7, toll free at 800-772-5862.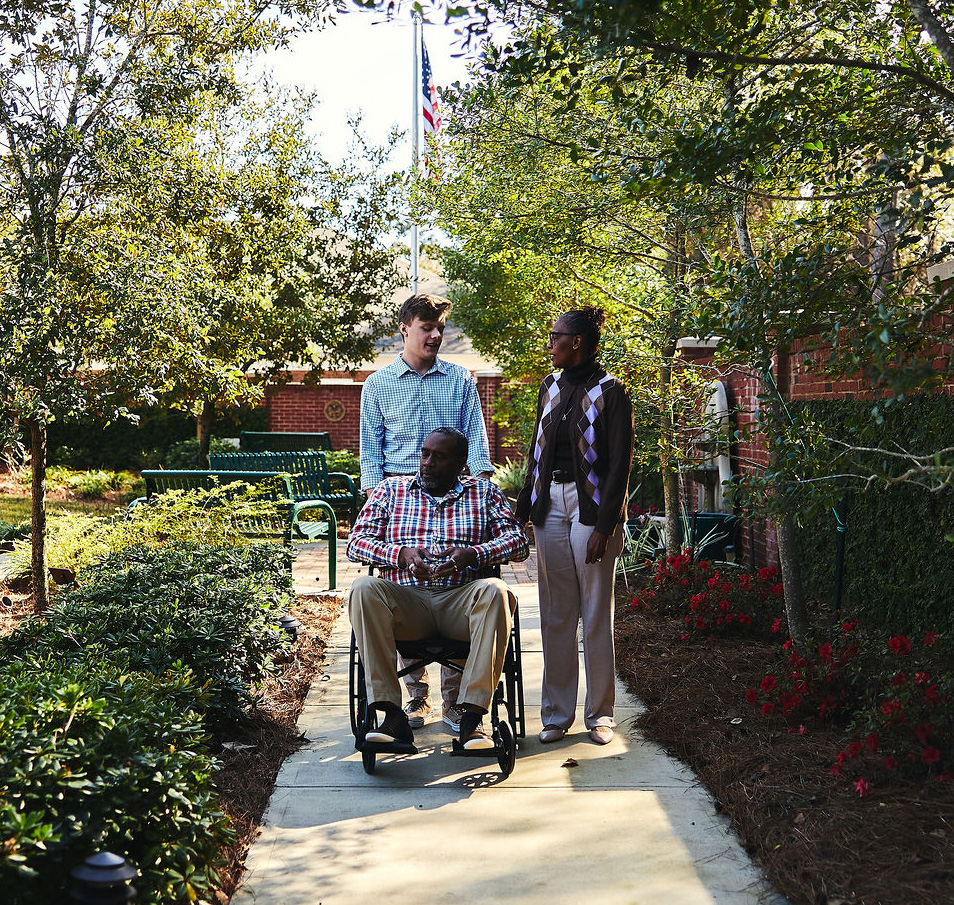 Physicians play an essential role in the care of Big Bend Hospice patients. Patients and their families have the ability to choose to have their physician follow them, or use our board-certified Hospice physicians to develop and oversee the patient's plan of care. Physicians are in regular communication with the Hospice team to assure that the patient's medical needs are taken care of during their time with Big Bend Hospice.
Dr. Niharika Suchak, Big Bend Hospice Medical Director
Frederick Lutz, MD
Jennifer Lynes, DO
Angela Marky, APRN
Jessica Novak, APRN
Lucy Saha, MD

The Margaret Z. Dozier House
The Margaret Z. Dozier House is lovingly-designed to encourage a sense of peace and being home. Staffed around the clock with Licensed Nurses and Hospice Aides, including a Registered Nurse on each shift, the house is available to provide care if you need pain control or nursing help to manage symptoms that cannot be controlled in your particular "home" setting.
As the only hospice in-patient unit in the area, patients are also offered services that include Family Support Counselors, Spiritual Counselors, Music Therapists, and Animal Therapy. Medicare benefits will also cover up to (5) days of respite care if approved by your hospice interdisciplinary team and families may pay out of pocket for respite care if this becomes important and space allows.
Each room offers a private bathroom, and families and friends are encouraged to visit as the patient or surrogate desires. There is a common area for families to gather, along with serene gardens for quiet reflection.
Visitation Expectations related to Covid-19 Pandemic at the Dozier House
All visitors, volunteers, and staff will be screened upon entry to the Dozier House for fever and any symptoms related to Covid-19.
All staff and volunteers will be masked.
All visitors will be asked to wear a mask.
Social distancing of 6 feet or more will be strived for.
All visitors will be asked to remain in the patient suite, as public areas are closed for safety.
Four (4) visitors are welcomed at one time in the building. Additional visitors are welcome to wait outside of the main entrance and switch as frequently as they like to be with the patient.
The Jean McCully Family House
The Jean McCully Family House provides a home-like setting for visiting relatives and friends to be with their loved ones, meet with their Care Team, receive bereavement support, and have a calming place to eat, rest, and be together.
Our Family House features:
A family greeting room with a kitchen, television, and mini-library
Hospitality suite to allow for private discussions
Breezeway that connects to the Margaret Z. Dozier Hospice House
Veterans Memorial Garden
If you would like more information about the Jean McCully Family House, please contact us at 850-878-5310.